Bubble Charcoal Cleansing Mask
To care for the problems of skin pores and lighten its color
Product Description
3x3x3
It is easy to use and cleans the skin within 3 minutes.
It gives the skin 3 benefits of deep cleansing, detoxification and skin soothing.
It takes care of 3 skin problems, removes dead cells, cleanses impurities, and takes care of pimples.
activated charcoal
Contains 3% of the purest types of Korean tree charcoal to help rid the surface of the skin and pores of the impurities and dirt accumulated in them.
Two types of cleaning mud
Contains 5% of Manikogan Clay and Kaolin Clay, which help absorb skin sebum and tighten enlarged pores.
Exfoliating Acid (Betahydroxy) BHA
With an effective concentration that removes dead skin cells and exfoliates the surface of the skin to give it a smooth texture and a radiant appearance.
Skin brightener
Contains 3 skin-lightening ingredients Glutathione, Vitamin C, and Apple extract that help remove pigmentation and even out natural skin tone.
Soothing and moisturizing for the skin
Although it is an effective cleansing mask for the skin, its formula consisting of the plant-based Trusica complex and a unique mixture of Korean plants gives it the ability to deeply moisturize the skin after cleansing and calm skin irritations and redness.
Effective carbon bubble cleaner
It contains soothing and cleansing carbonated water that transforms the product from a clay mask into a unique mixture of bubbles as soon as the product comes into contact with the skin.
Featured Ingredients
carbonated water bubbles
BHA natural peeling acid
Manikogan Clay and Kaolin Clay 5%
korean activated charcoal 3%
glutathione
Trusica Botanical Complex
Product Benefits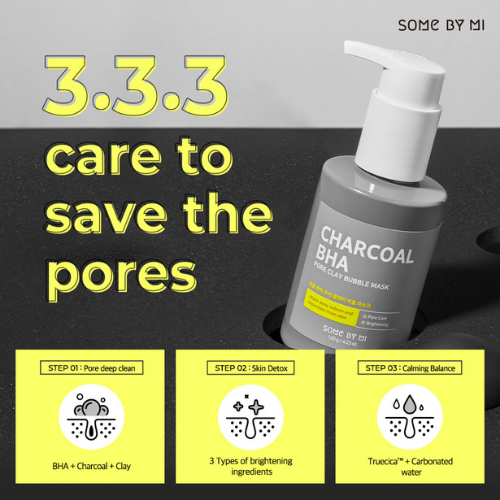 Product Features
Natural and friendly ingredients for all skin types
Carbon bubbles enriched with soothing and cleaning ingredients.
Deeply cleanses the skin in 3 minutes and removes daily make-up.
It gives the skin 3 benefits by cleansing it deeply, removing toxins, and instantly soothing the skin.
It takes care of 3 main problems as it removes dead cells, cleans accumulated impurities, and takes care of skin problems.
Contains Botanical Trosica Complex and Carbonated Water to provide skin with superior hydration and a smooth texture.
Unifies skin tone and eliminates red pigmentation.
How to use
Apply an appropriate amount to dry skin, and after bubbles appear, leave it for 3-5 minutes, then massage it gently using a small amount of water, then wash it off.
product specification
Size: 120g
Formula: clay mask
Package: pump package
Country of Manufacture: South Korea
Barcode: 8809647391685